Free Offer: Feed Management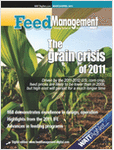 Request Your Complimentary Subscription NOW!
Advancing Feed and Technology.
Executives look to Feed Management to help them efficiently and safely formulate, process, distribute and market animal feeds. Each issue covers the latest news in feed production, nutritional developments and trends, food safety and regulatory developments, grain markets, management strategies, and new products.
Geographic Eligibility: USA, Canada (If you are outside the USA or Canada, please click here: Feed International).
Offered Free by: WATT
Other Resources from: WATT
Please Click Here To Request This Offer


Entry filed under: Agriculture. Tags: Feed Management.