Free Offer: Lambers CPA Review Special Edition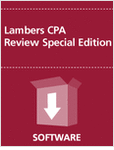 Receive Your Complimentary Study Guide NOW!
"Lambers CPA Review Special Edition"
The Lambers method of instruction uses case examples and illustrative problems to help you grasp the concept being taught, and remember it. This method of instruction has been used in ExamForce's classrooms and self-study materials since the inception of the Lambers program. This method of teaching was "born in the classroom" and refined over years by the Lambers professors.
The Lambers course is unique, in that the materials are written by instructors that actually teach the courses. The Lambers staff gives as much attention to omission as inclusion of subject matter in each review. Topics are presented only if they are relevant to the exam. A busy candidate has no time to spend on possible, but not probable, exam subjects. Choose the Module you would like to receive:
Offered Free by: ExamForce
Other Resources from: ExamForce
Please Click Here To Request This Offer


Entry filed under: Career. Tags: Lambers CPA Review Special Edition.