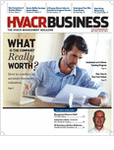 Request Your Complimentary Magazine NOW!
The editorial focus and mission of HVACR Business is to provide business owners and managers with the very best management concepts available.
Critical topics covered include leadership, management, finance, sales, marketing, training and education, health care, insurance, customer service and more. They are dedicated to helping contractors master these key management skills and provide them with the resources necessary to build stronger, better, more profitable customers.
Geographic Eligibility: USA
Offered Free by: HVACR Business
Other Resources from: HVACR Business
Please Click Here To Request This Offer