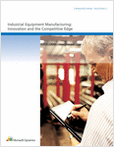 Request Your Free White Paper!
"Industrial Equipment Manufacturing: Innovation and the Competitive Edge"
Extending the business is really about giving an industrial equipment manufacturer enough flexibility to grow the business by pursuing new revenue opportunities.
Industrial Equipment Manufacturing from Microsoft Dynamics AX can help manufacturing companies meet these challenges by integrating and streamlining business, engineering, and production processes for increased efficiency. The solution is an enterprise-wide business management system with emphasis on the particular needs of industrial equipment manufacturers.
Offered Free by: Microsoft Corporation
Other Resources from: Microsoft Corporation
Please Click Here To Request This Offer