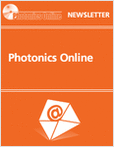 Request Your Complimentary Digital Subscription NOW!
The Photonics Online newsletter features the news, companies, latest developments, products, and applications that have sprung from this exciting field.
Since the introduction of fiber-optic data transmission in the 1980′s, the practical use of photonic technology now spans an ever-increasing field of applications including telecommunications, computers, pharmaceuticals, healthcare, medicine, manufacturing, etc. Photonics Online presents the latest developments in the field with a target audience of engineers, scientists and other photonics industry professionals.
Geographic Eligibility: USA, Canada, Selected International (Western Europe & Asia)
Offered Free by: VertMarkets, Inc.
Other Resources from: VertMarkets, Inc.
Please Click Here To Request This Offer