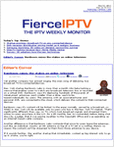 Request Your Complimentary eNewsletter NOW!
FierceIPTV is an easy-to-read weekly email briefing that brings must-read IPTV news and developments to senior communication industry executives.
In one quick email per week, FierceIPTV will keep you up to speed on IPTV deployments, IPTV technology, content deals, and more. Join more than 29,000 industry insiders who rely on FierceIPTV for their weekly email update!
Geographic Eligibility: USA, Canada, UK
Offered Free by: FierceMarkets Inc.
Other Resources from: FierceMarkets Inc.
Please Click Here To Request This Offer